London Reflexology & Massage

In your home, my practice or your office
Holistic Swedish massage
Swedish massage is based on Western concepts of anatomy and physiology.
The effects of a Swedish massage are to relax muscles and induce general relaxation.
It creates the feeling of being energised, promote the feeling of vigour and increases your well being. It promotes relaxation of the body and mind.
On-site chair massage
Chair massage is an energizing acupressure routine 1,300 years old. You sit in a special ergonomically chair and I massage your head, neck, shoulders, back, hip, arms and hands. No oils are used and you remain fully clothed throughout the massage. Chair massage is designed to leave you feeling energized and alert but also completely relaxed. You will feel your breathing is calmer and stress has evaporated from your body.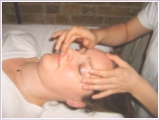 Tsuboki Japanese face massage
Japanese facial massage is a combination of Anma techniques, which means rubbing, and also Acupressure techniques which concentrate on specific acupressure points or tsubos on the face. Massaging many of the tsubos on a particular meridian on the face improves your well being and help your feeling relaxed.

Reiki
Reiki means Universal Energy. Reiki is a way to treat energy in your body and balance forces to help you feel relaxed. I place my hands on different parts of your body, head, front and back torso, knees and feets and the energy flows through the palms to make you feel better. You will experience a tingling and warmth sensation through your body ,and experience relaxation and feeling of peace.